SUNDAY, NOVEMBER 12

9:30 & 11:00 AM 
Worship Services
(Speaker: Pastor John King)
Family Sunday | 3rd Grade Bibles, Family Dedication, Baptism
WEDNESDAY, NOVEMBER 15

6 PM| Family Night / "How to Study Your Bible" Core Class
6 PM | Awana, MSM
7 PM | HSM (BCS Campus) 
SATURDAY, NOVEMBER 18

Union Mission Food Distribution
Thanksgiving Food Collection & Distribution
We have an opportunity to invest in the lives of people in our area and to encourage them during the holidays.
We're collecting boxes of stuffing through November 17 for Union Mission's Thanksgiving Distribution. Our goal is 900 boxes! Drop donations off in the lobby any time the church is open. To volunteer for the Food Distribution, complete the form by November 15.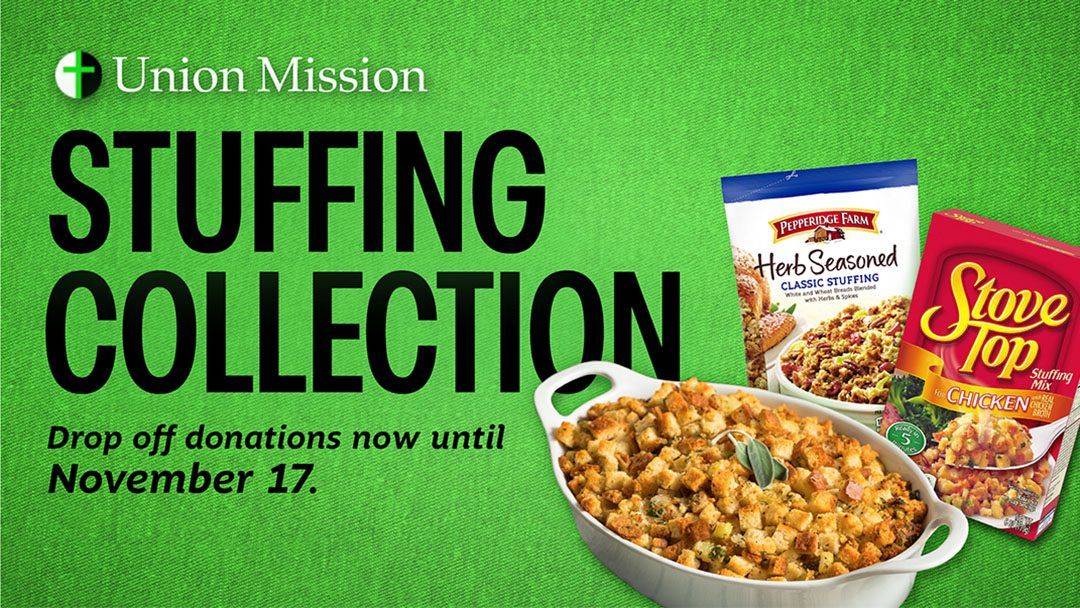 Family Night | How to Study Your Bible Class
Wednesday, November 15 | 6:00-7:15 PM | Ever wonder how you can get more out of your Bible reading? Not sure what it's saying? Plan to join us for the next session. Hot dogs, chips, and drinks will be provided. Children and students will follow their regular Wednesday schedules. High schoolers are invited to attend the class before HSM.
Men's Thanksgiving Lunch
Wednesday, November 22 | Noon | Little Creek Country Club | Guys, you're invited to come enjoy some great food while hanging out together. We'll talk about upcoming opportunities in Men's Ministry and hear from a guest speaker. Weather permitting, we may even golf afterward! Sign up today!
Save the Date! Christmas Carol Sing-a-Long
Sunday, December 10 | 6 PM | We'll kick off the month of December with an opportunity to come together and sing favorite and beloved Christmas carols. We'll meet in the Gathering Space to share favorites and take requests. Hope to see you there!
Host International Students for Thanksgiving
Thursday, November 23 | The University of Charleston has international students who are staying in the dorms during holidays. Most have no access to meals (as the kitchen is closed all week at Thanksgiving). You're invited to host 2-5 students for Thanksgiving Day dinner. This gives the students an opportunity to get off campus, to experience an American Thanksgiving, and to have a good, hot meal. Students will need to be picked up at UC and taken back sometime after dinner. If you would like to host students this Thanksgiving, please let us know.
"The Grinch" Movie Night Volunteers
Friday, December 1 | 6:00-8:30 PM | Helpers are needed for the Family Movie Night. Sign up to help serve food and popcorn, greet families, help people feel welcome and show them where to go. We'd love to have you!
OWLS Christmas Lights & Dinner
Thursday, December 7 | 4-9 PM | Celebrate the Season with a trip to see the Logan County Christmas Lights! Transportation and dinner at Chief Logan Lodge are included. Meet in the church lobby at 4 PM; return time approximately 9 PM; Cost: $21 (dinner, tax, tip) +$10 for gas. Space is limited, and registration is required by December 1. Questions? Contact Judy Mercer (304-346-0431).
Winter Wonderland | GEMS Event
Friday, December 8 | 6-8 PM | All GEMS (widows) are invited to our winter gathering to enjoy food and fellowship. RSVP to the church office by November 20 at (304) 346-0431 or contact Suzanne Lackey.
Women's Christmas Gift Exchange
Saturday, December 9 | 4-6 PM | All ladies are invited to a gift exchange like you've never seen! Each person should bring 4 identical unwrapped gifts to exchange with others. The goal is for you to come with 4 gifts and leave with 4 new gifts. Everyone will be divided into "shopping" groups and given the opportunity to choose 4 gifts for yourself or for others as you "shop" for Christmas. Come join us for some fun, friends, and food! To make sure we have enough food, please sign up.
Voice of the Martyrs Simulcast
Wednesdays through December 13 | 6 PM | Room 3101 | The Wednesday evening Prayer Group will host a simulcast, Imprisoned for Christ, highlighting three Christian workers who were imprisoned for their faith. Anyone is invited to attend.
"The Grinch" Movie Night
Friday, December 1 | 6:00-8:30 PM | Families are invited to join us for a movie night, featuring The Grinch (2018). Pizza, snacks, and hot cocoa will be provided. Pajamas, slippers, and blankets are encouraged! Parents must stay with their children for the entirety of the event. To help with planning, please sign up if you plan to attend.
Employment Opportunity
BCS is seeking a 1:1 aide for a student with special needs. Educational experience is preferred and a background check will be required. Email Assistant Principal Emily King to inquire.
Christmas Craft & Vendor Show
Friday, November 17 (6-8 PM) | Saturday, November 18 (11 AM-3 PM) | Bible Center School will hold its annual Christmas Craft & Vendor Show. We will have a variety of beautiful items from over 20 different crafters and vendors. Plan to come out and shop for yourself or check some names off your Christmas list and help support BCS.
Want the weekly news delivered to your inbox?
Subscribe to the Saturday Round-Up